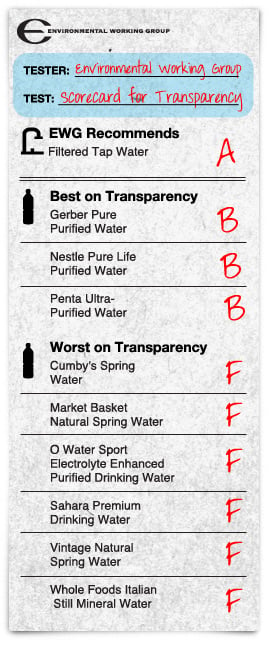 The Environmental Working Group recently published a¬ 2011 Bottled Water Scorecard that surveys 173 bottled water brands in an effort to find the source of the water, as well as if any further water purification is done.
Here are just a few surprising facts from the bottled water scorecard:
18 percent of bottled water brands do not reveal their source.
32 percent of bottled water brands surveyed do not provide info on water treatment.
Less than 1/4 of brands surveyed comply with California's labeling law.
Aquafina and Dasani received a D; Fiji and Evian received a C.
Want to see how your favorite brand of bottled water stacks up? The EWG has a long, comprehensive list of bottled water brands on its bottled water scorecard. The brands are judged on their transparency (including source, purification and testing) as well as any advanced treatment. Under these metrics, no brand scored greater than a C overall. Filtered tap water received an A, which was the highest score the EWG provided.
The EWG published a similar bottled water scorecard in 2009. For the most part, bottled water brands did not become any more transparent in the year's time between the two scorecards. Still, the EWG hopes that the survey will lead to stronger standards for bottled water brands.